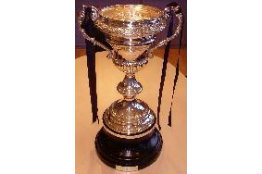 The league was formed in 1936 and operated as the Derwent Valley League, in 1945 the league folded but in 1947 reformed and has been running ever since.

The league got into a bit of bother in 1997/1998 as funds were low and it looked as though the league was going to fold, fortunately it survived. Herbert Briggs who joined the league in the 1999/2000 is the longest serving member of the management committee and the youngest Chairman the league has ever had as he was only 35 years old when appointed Chairman some 11 years ago he held that post for three years. Steve McMahon joined the following year as treasurer/secretary, and the pair have worked wonders ever since and carry on doing soeven in these hard times with various sponsorship deals being struck, the league has now got a solid financial base. Briggs and McMahon are well supported by Graham Young who is the league chairman and fellow members.

In 2003/2004 the league was restructured after the Carlisle & District league folded and the league became known as the Cumberland County Football League, covering a geographical area from West Cumbria to Newcastleton in Southern Scotland. At this point the League was running with two divisions consisting of 18 clubs, increasing to 22 clubs in 2006/7. Credit has to be given to everyone involved as many in the local FA said the league would not work but it has and is going from strength to strength. The talking point was the major sponsorship deal which was struck with supermarket giants TESCO, it is the first time Tesco have gone down the road of sponsoring a league, so the County League makes history and officials hope this is the start of a long relationship with Tesco. The League will START 2011/12 with Tesco starting their 6th year of sponsorship.

The league has 5 Cup competitions, with each competition having its own sponsor. The Whitehaven Cup and Benevolent Cup date back to 1909 and are sponsored by J J Club (Workington) & ISS Waterers. Each cup is valued at £6000 and as they are sterling silver they really are worth winning. ( The Whitehaven Cup is pictured below)

As are all our cups they all carry a cash prize for the winners runners up and beaten semi finalists the Conway cup is sponsored by Smurfit Kappa, they will start their second year of sponsorship, Focsa who have been in partnership with us since 2003/2004 will carry on as sponsors of the Ken Glover Memorial Shield while West Cumbria Scaffolding are in their third year as sponsors of the Divisiomal Cup, J J Club of Workington are also on board for the third year as sponsors of the big one the Whitehaven Cup. (Pictured Below)